Since the early 2000s, brand owner Alan Rubin and his Alec Bradley Cigar Company have attained legendary status among premium cigar smokers by producing one top rated blend after another. With lines such as the Prensado, whose Churchill size was named the Cigar of the Year in 2011, this company, named after Rubin's sons Alec and Bradley, has many other highly rated gems in their award-winning brand portfolio.
This includes the 94-rated Alec Bradley Family Blend, the 91-rated Nica Puro, 90-rated Black Market, and the Tempus, that has been ranked in Cigar Aficionado's 'Top 25' list on numerous occasions, including a Top 5 appearance in 2017. Following in their fathers' famous footsteps, the Rubin sons, mentioned above, have added a magnificent blend to this enormously popular lineup called Gatekeeper.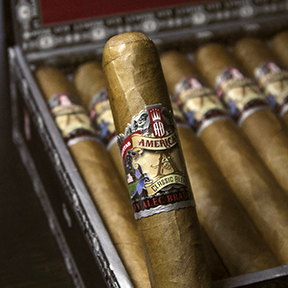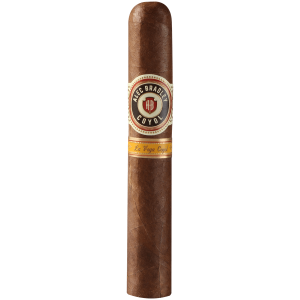 Take control of your happiness, again!
I contend that a cigar, with a proper blend and value proposition, is the key to taking control of your happiness. The calming effects of the dark and rich Project 40 Maduro are rewarding to enthusiasts, leading to relaxation and the feeling of being in control.  The Project 40 Maduro is the next chapter of the Experimental Series story. Take control of your happiness, again!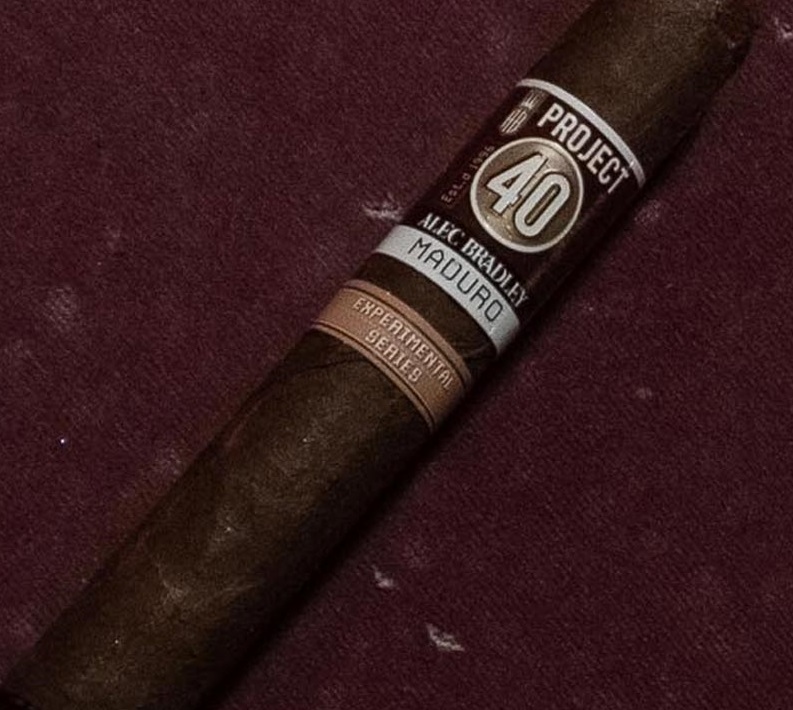 A deeper understanding!
Project 40 is the search to find a deeper understanding as to why cigars have a positive cognitive impact on the mind and body. Similar to music, cigars have a calming effect that allows us to feel in control as well as feel rewarded. A proper blend, price, and experience has been developed for your enjoyment. Take control of your happiness.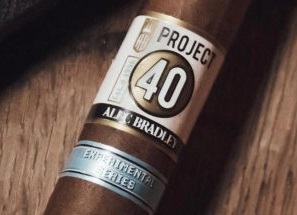 Kintsugi is an elegant, multifaceted medium bodied cigar created by second generation cigar makers Alec and Bradley Rubin. Alec & Bradley Kintsugi pays homage to the ancient Japanese artform of joining together ceramics with gold lacquer-making them even more beautiful. Cigars, like the gold lacquer, are a bonding agent- bringing people from all walks of life together.
Alec & Bradley Kintsugi cigars were created to celebrate camaraderie. Available Fall 2020.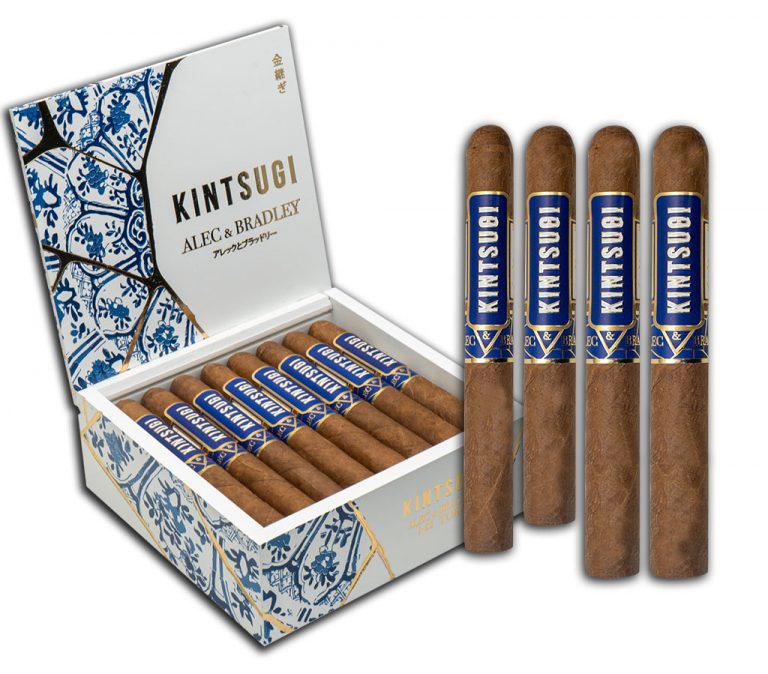 This brand is the second release from Alec and Bradley.  On this project, they worked together with the 'Godfather' of cigars, Ernesto Perez-Carrillo at his factory in the Dominican Republic.  With the Gatekeeper, they have opened the gates to new tobaccos and experiences.  Ernesto has given the Rubin brothers the opportunity to grow as second-generation cigar makers.
This is a great blend of perfectly aged tobaccos from Nicaragua, Ecuador and Dominican Republic.  It is available in four sizes as listed below and packaged in boxes of 20 cigars.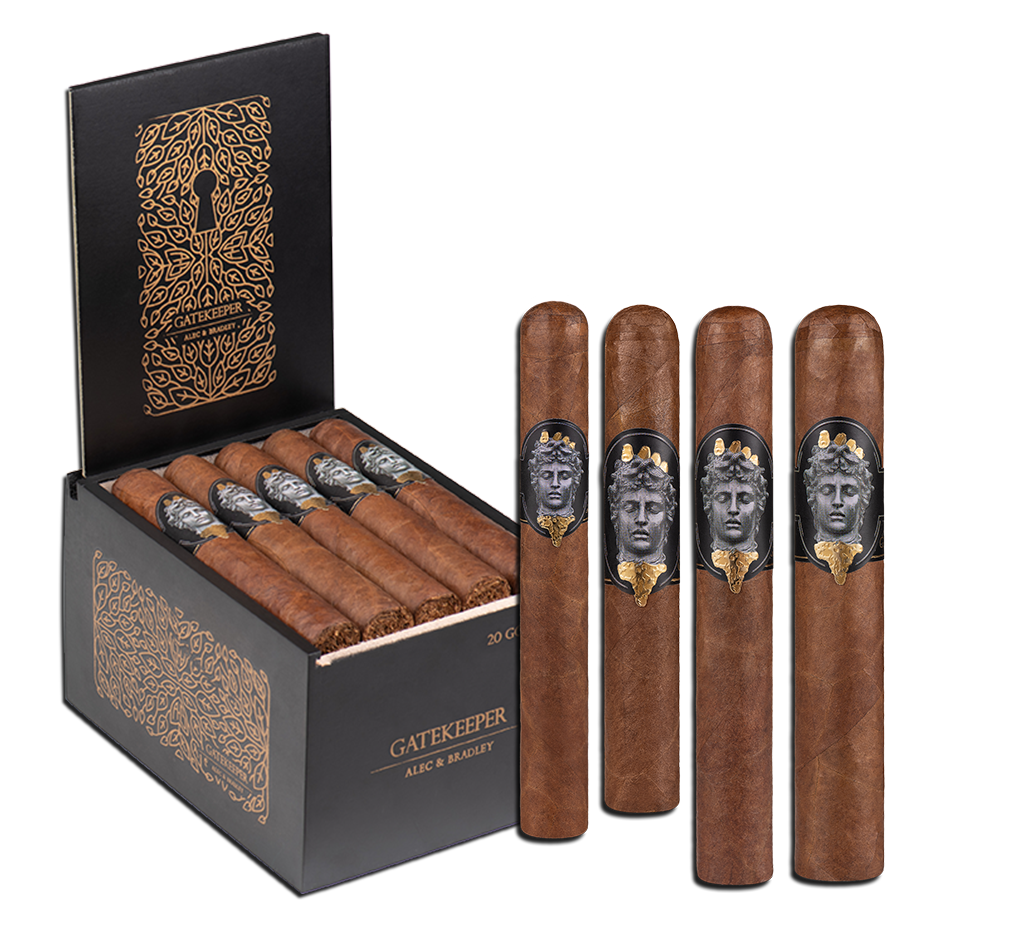 Nicaragua/Dominican Republic
A star is born.
Alec Bradley Magic Toast got its name on a night forever etched in my memory. That's the night, I saw for myself, by flashlight, a crop that was beyond belief. Tobaccos I knew we would find a
special project for. Under the stars, we cracked open a bottle of very special whisky and proposed a toast to our future. Magic Toast was born that evening. Along with a ritual. Toast the end of this
cigar. Celebrate its beginning. And enjoy the magic!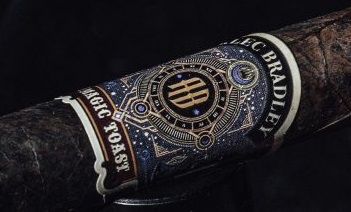 Every month, for over a year, I had been working on blends with a special tobacco from Panama. The unique flavor of Panamanian tobacco, that I so thoroughly enjoy, somehow had to be shared with the world. Creating 18 different Panamanian blends, I smoked the third one in line and knew this was Black Market! The mystery of Panamanian tobacco and the crate like box in which Black Market is displayed illustrates this cigar's journey.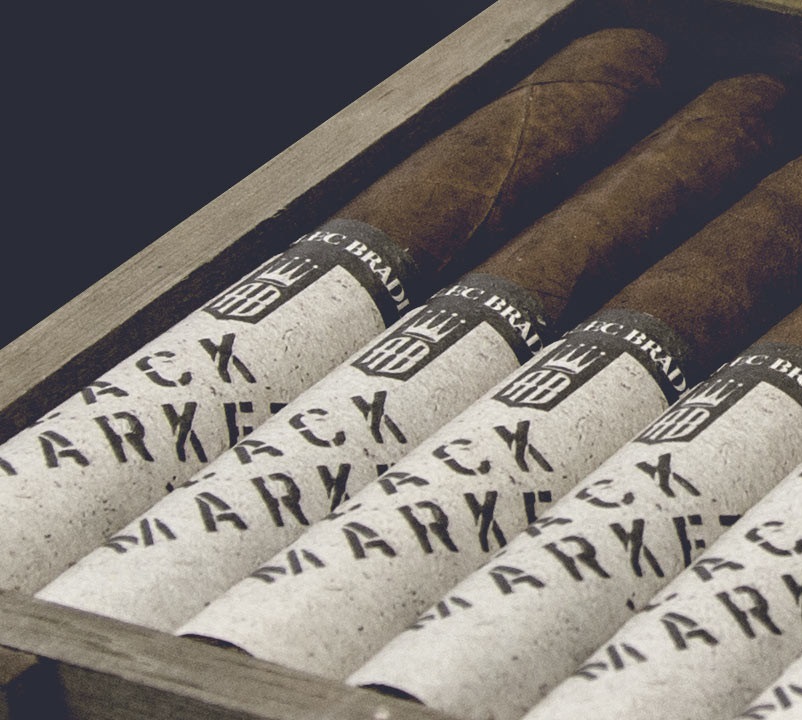 I've noticed that many cigar enthusiasts know their favorite cigars come from Nicaragua, but the exact location remains a mystery. Since the term 'black market' alludes to things unidentified or shadowy, I felt compelled to bring Esteli, the cigar capital of Nicaragua, out of the shadows. Black Market Esteli pays homage to the importance of the city and every-thing it offers to cigar making.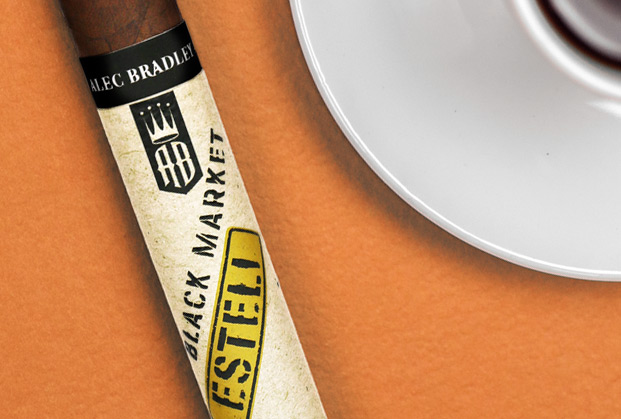 Blind Faith features three different filler tobaccos from Esteli; a silky smooth wrapper from our proprietary farm in Trojes; holding it all together is a double binder combination from Honduras and Nicaragua.
The brand is available in three sizes as listed below and comes packaged in boxes of 20 cigars.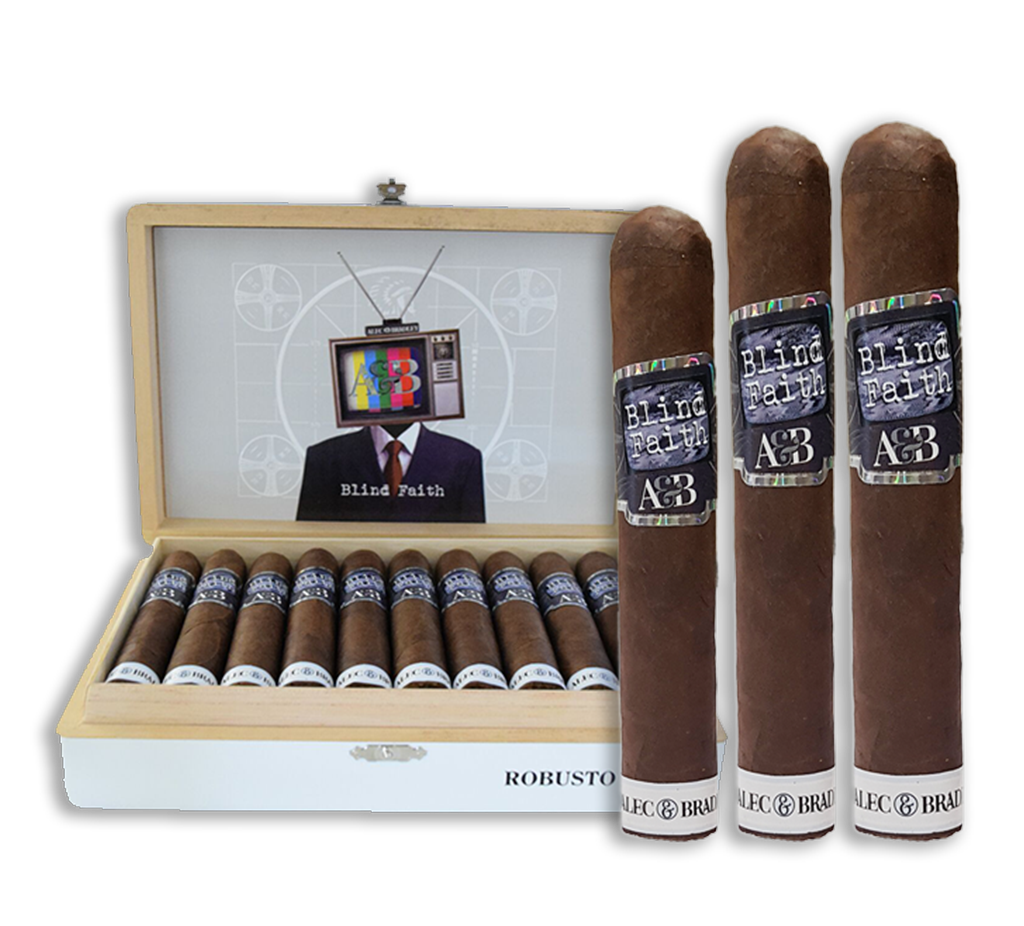 "#1 Cigar of the Year" "96" rating by Cigar Aficionado
Prensado means a lot to me and the Alec Bradley story. Rolled at Raices Cubanas ('Cuban Roots') factory, the Prensado was first created to pay homage to the Cuban traditions of cigar making rolling the filler 'entuba-do,' triple capping the head and box pressing the finished cigar. Blended with proprietary estate grown corojo from the Trojes region of Honduras, Prensado would eventually be named Cigar Aficionado "Cigar of the Year," propelling Alec Bradley's trajectory into cigar culture much quicker than I anticipated.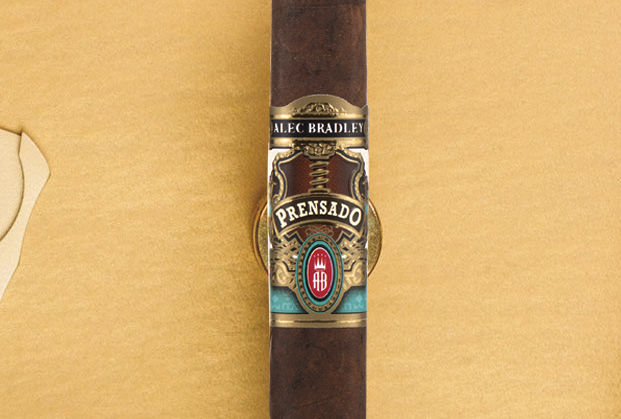 Nowadays, it seems production trumps artistry. In premium cigars, though, artisans still produce everything by hand- a process that hasn't changed in hundreds of years. I get nostalgic about the days when a large majority of products were made with care, by hand. Prensado Lost Art pays homage to those times. Every Prensado Lost Art is traditionally rolled "entubado"- with each filler leaf rolled for perfect air flow. The cigars are semi-pressed and finished with a traditional triple cap.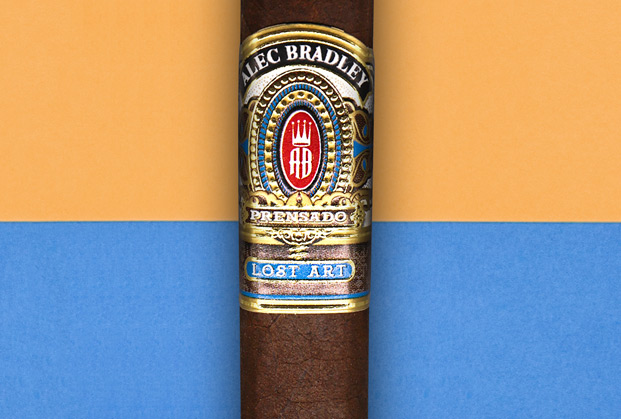 During one of my trips to the factory, I set off to create a large cigar with even bigger flavor. I played around with a few ideas and came up with an interesting twist, the Texas Lancero. The massive 7'' X 70 ring cigar is finished with a pigtail, a capping technique traditionally reserved for the long, thin and nuanced Lancero size. Texas Lancero is a fitting play on words for a large cigar that's remarkably smooth and balanced, with a size and flavor as big as the Lone Star State!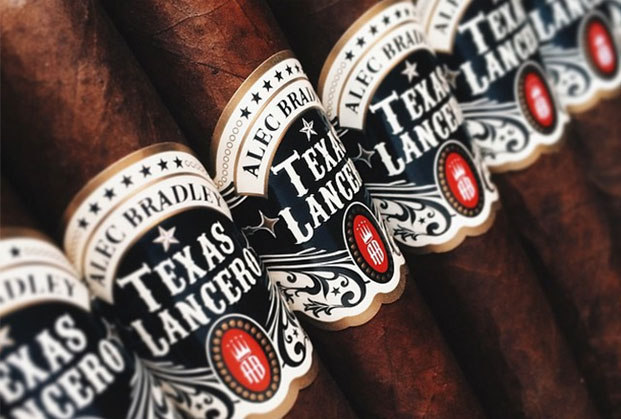 Nicaragua, Honduras, Costa Rica
I took a huge risk creating the MAXX line. At the time, traditional, smaller ring gauge cigars were en vogue. As an innovator, I wanted to buck the trend. My challenge was to create a line of large cigars with maximum flavor and satisfaction at a great value. For MAXX to be a success, the flavor needed to wow the palate. By using tobaccos from five different countries in a large format cigar, I was able to create balance, sweetness and complexity. Sometimes, bigger is better.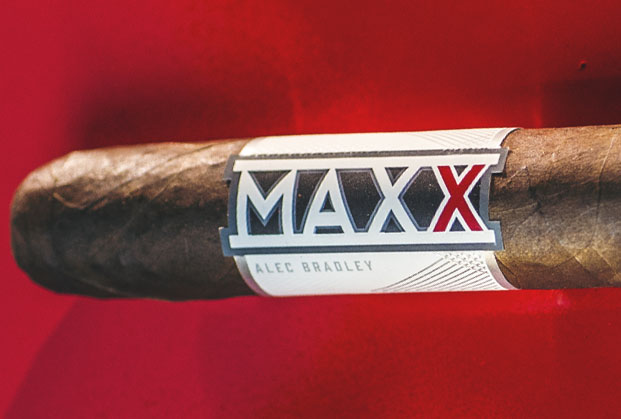 I created Medalist to be a people pleaser. Whether you are an enthusiast, an occasional smoker that enjoys a milder experience or you're simply looking to change up your routine, Medalist is for you! That's why I consider the Medalist blend as the 'People's Champ,' worthy of the gold medals featured proudly on the box and bands.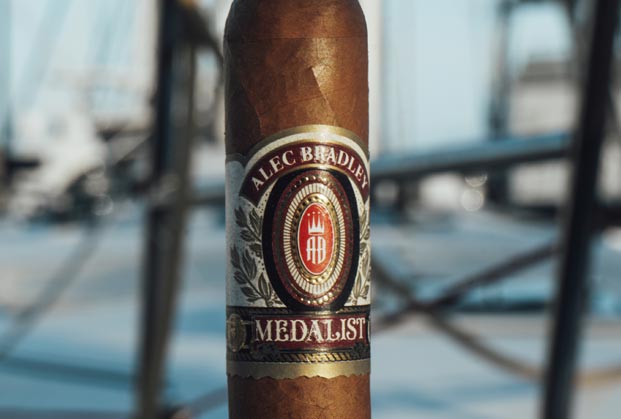 A great tobacco man once told me- "listen to the tobacco, it will tell you when it's ready." When I tried a special estate grown premium tobacco from Trojes, Honduras, it spoke to me, and I listened. The Trojes tobacco delivered flavors and complexities I had never experienced before. The taste was incredible, and the blending process began. Tempus is Latin for time – and it took time to learn, grow, blend and age. Tempus would eventually rate a '94' in Cigar Aficionado, becoming Alec Bradley's first of many 'Top 25 Cigars of the Year'. I hope you take the time to enjoy this very special cigar!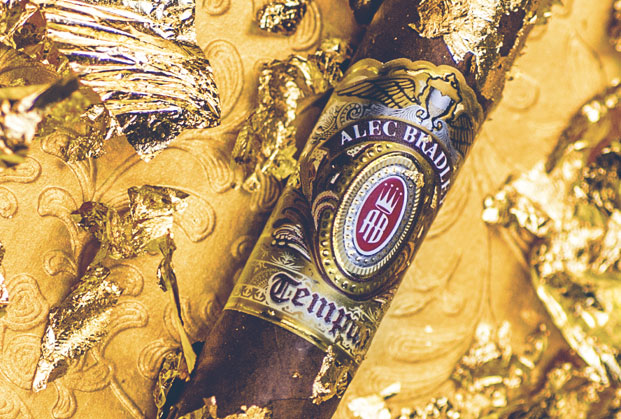 Nicaraguan tobacco is known to be some of the heartiest tobacco in the world. But, to get the true flavor from the leaves, you need to have patience. With Tempus Nicaragua, I created a stout cigar, well-balanced and flavorful – something an enthusiast would take the time to enjoy and remember. Tempus Nicaragua is a cigar that will wake you up in the morning or enhance your experience after enjoying a great meal.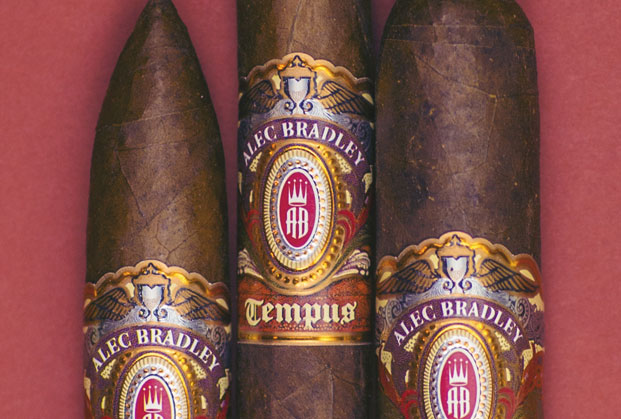 Nicaragua (Double binders)
Nicaragua (3 growing regions)
I am a family man with a passion for cigar making. The company is named after my two sons, Alec & Bradley. I truly hoped that when they came of age, they would join me on my journey in the premium cigar business. I set aside rare tobaccos for that day, if it came. Crafted with those tobaccos, The Lineage is dedicated to my sons, both of whom now work alongside me every day, continuing the legacy as second generation cigar makers.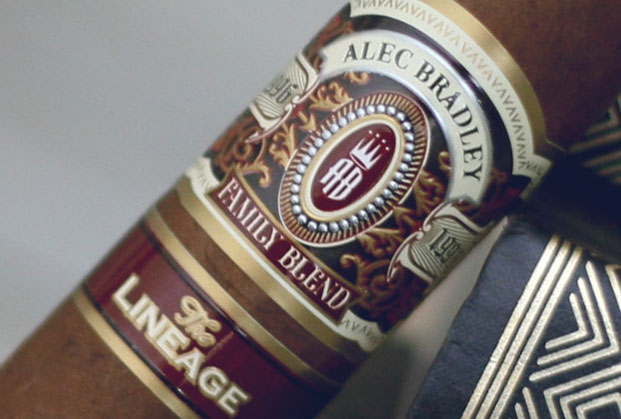 I set out to create a cigar in our own style while answering a consumer need for a highly flavorful experience. With this in mind, I blended Alec Bradley Connecticut- a flavorful cigar with the smoothness and elegance a Connecticut wrapper imparts, adding sweetness and balance to the marriage of premium tobaccos. A pleasant blend for every palate offering the kind of nuanced taste experience Alec Bradley smokers have always enjoyed.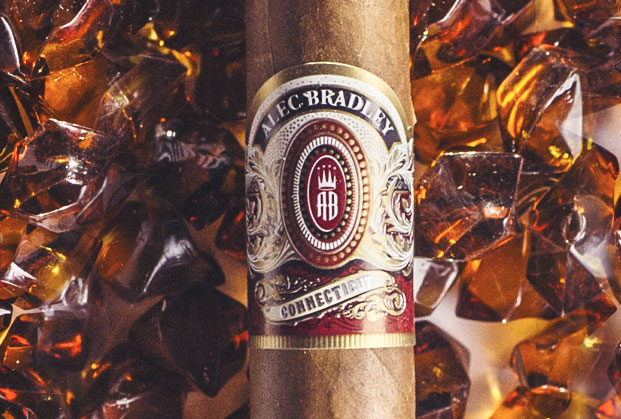 I was inspired by a conversation with my Dad; reminiscing about the simpler times of yesteryear. During our chat, he spoke about the types of cigars that he and his buddies once smoked. Back in my Dad's day, cigars were flavorful and hearty – yet, smooth on the palate. I went to the factory and blended a cigar to be smoked any time of day, every day. That cigar is American Classic.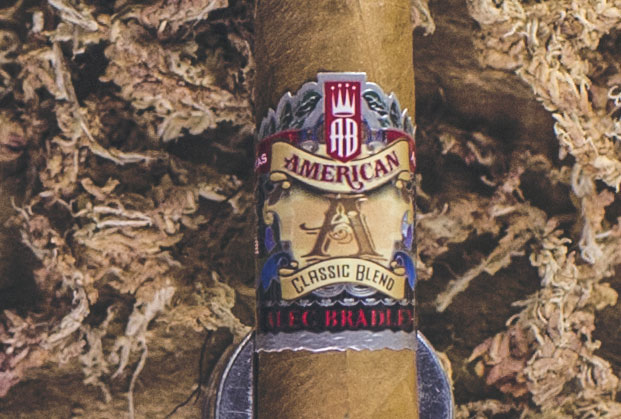 Sunlight plays an important role in the growth and flavor of tobaccos. Using 100% sun grown Nicaraguan tobaccos, I blended to the taste buds of the every day smoker looking for a bolder cigar at a great value. American Sun Grown does everything I set out for it to do. When we introduced the cigars to the world, we were delighted to find out that the brand transcended the American market. American Sun Grown's flavor profile was embraced across the globe.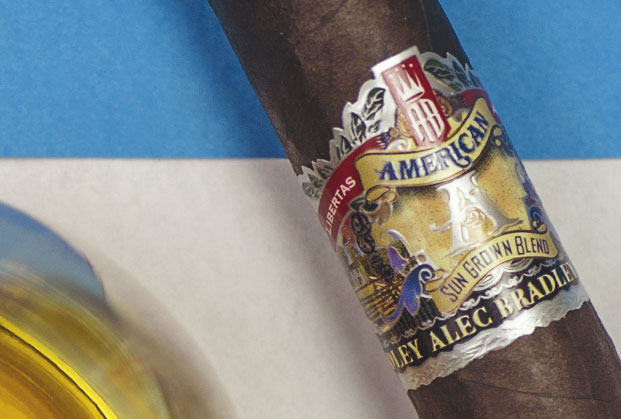 La Vega Coyol is one of our exclusive farms in Honduras, named after the majestic Coyol palm tree that stands at its entrance. Sharing the same fertile soil of the palm, the tobaccos cultivated from La Vega Coyol exhibit great flavor and wonderful aromatics. I blended Alec Bradley Coyol for the cigar enthusiast who appreciates rich flavor and aroma. Like a fine wine, Coyol is a cigar whose name honors its roots and the land that gave it character.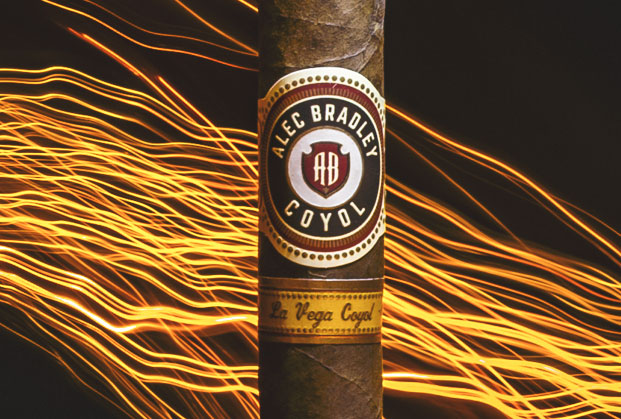 A new addition to the family has been long-time celebrated with cigars. These bands and cigars have been designed specifically for such an occasion!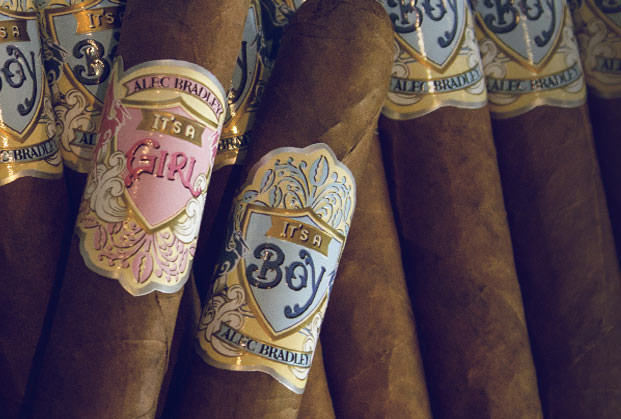 Our Natural is made up of Connecticut wrapper, Honduras binder, and Nicaragua, Honduras Filler. Our Habano is made up of Nicaragua wrapper, Nicaragua binder, and Nicaragua, Honduras, Mexico Filler. Our Corojo is made up of Nicaragua wrapper, Honduras binder, and Nicaragua, Honduras Filler.
Available in Robusto, Churchill and Torpedo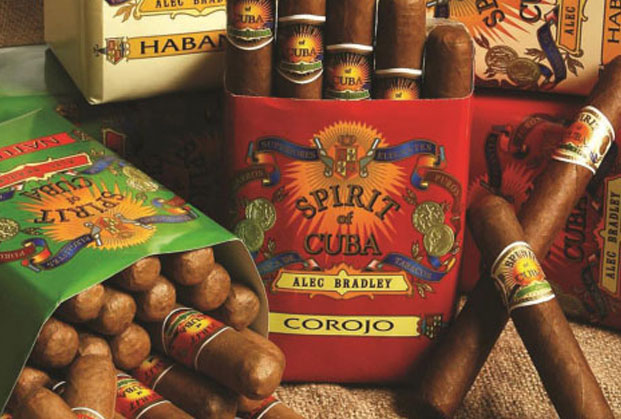 Nicaragua, Honduras, Mexico
ABCO is a long-filler, brick & mortar exclusive, bundle brand being distributed by Alec Bradley.  The manufacturer named the project "ABCO' to pay homage to Alec Bradley.  'Miami' is an allusion to the cultural importance of cigars in South Florida- specifically the history of Cuban Immigrants providing hand-rolled artisanal cigars at affordable prices.